Bigbasket 25% off + 5% Extra savings on Grocery for Rs500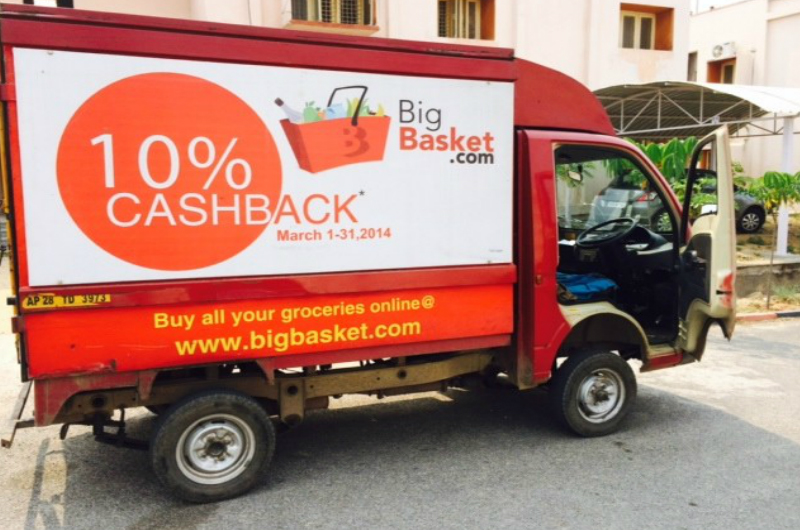 Payumoney: 25% off + 5% Extra savings on Grocery
Offers:
Bigbasket : Rs 75 off + 5% Extra Savings
Coupon Code – BBPAYUGF75 .
Minimum Transaction Value: Rs. 500
Maximum Discount Rs.75
Offer Validity 08/10/2015 – 14/10/2015
One Redemption per customer
Offer not valid on Ghee, Oil & Baby Foods
Coupon code usage is restricted to payment via PayUmoney
Grofers : 20% off + 5% Extra Savings
Coupon Code – PAYU20
20% off on Grofers app
The offer is valid for Grofers new users only
The offer will be valid for one transaction per user
Max discount applicable is Rs 100
The promo code PayU20 will be valid for online payments only
Zopnow : 20% off + 5% Extra Savings
Coupon Code – PAYU20
Applicable on once per user during 8th to 14th Oct, 2015.
Meragrocer.com : 25% off + 5% extra Savings
The 25% Cash back Scheme is valid from 8th Octpber 2015 to 14th October 2015.
25% Cash back will be credited in My Wallet section of My Account page only for the successful online prepaid orders which have been placed using Payumoney payment gateway.
25% Cash back will be calculated on the Net order value and the Wallet/Internal Credit used will be excluded. The maximum Cash back credit will be 250 points.
25% Cashback can be availed only once per user.
25% Cashback will be credited, for the successfully placed order which are Invoiced and Shipped, within 48 hrs working hours from the time of delivery.
25% Cash back can be redeemed on any subsequent order, post successful delivery of the order against which Cash back was earned.
25% Cash back credits can be used for purchases to be made on meragrocer.com only.
25% Cash back credits are not redeemable for cash or credit nor can be exchanged and is non-transferable.
The current redemption is 1:1 ratio, however the same can be changed at the description of the company without prior notice.
If the order is not successfully delivered or order is cancelled then the cash back earned will be reversed from the customer account.
Meragrocer reserves the right to service or deny any order placed.
Accrued points are valid for a period of 1 Month from its date of issue.
Any dispute should be referred to Omnipresent Retail India Pvt. Ltd., and the decision of the company shall be final. Litigation, if any, is subject to Jurisdiction of courts in Delhi.
This Offer cannot be clubbed with any other offer/promotion being run by Meragrocer.
Terms and Conditions are subject to change without prior written notice.
Askmegrocery.com – 25% off + 5% extra savings
Coupon Code – ASKGRC
First purchase 25% discount
Maximum Discount Rs 1000
Coupon code ASKGRC
One time use only coupon
Askmegrocery.com – 20% off + 5% extra savings
Coupon code – ASKREP
Repeat Purchase 20% discount,
Maximum Discount Rs 1000,
Coupon code ASKREP
Offer Applicable from 8th Oct to 14th Oct