Dailyhunt App – NewsHunt- Earn Rs.1000 Free Mobile Recharge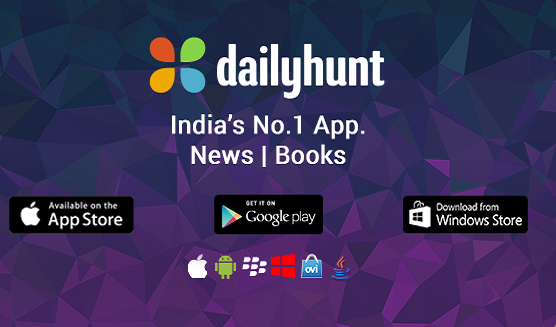 Dailyhunt App [NewsHunt] :-
Dailyhunt app provides latest news, study materials for competitive exam preparation & ebooks. Stay updated with breaking news, current events & daily news headlines on politics, business, technology, bollywood, sports, live cricket score & more for India & World. Read newspapers and books in local Indian languages – Hindi, Malayalam, Kannada, Tamil, Telugu, Marathi, Bangla, Gujarati, Urdu, Oriya & Punjabi. Prepare for exams with study materials, question banks & mock tests for IBPS, UPSC, SSC, UGC NET, IAS, LIC, Railways & many more in an exclusive new section on Dailyhunt. Also, find free & paid eBooks & magazines in Indian languages.
Earn up to Rs 1000 talk time by downloading and referring Dailyhunt app to your friends.
Use Referral code 3Y83972 and Start Earnings.
How to Participate on this Referral Program:
Download & Install the DailyHunt App
Signup with Gmail /Facebook / Other Emails using Referral Code – 3Y83972
After Successful Registration, Open the app go to Earning Program
Invite your friends with Social media.
Earn up to Rs.1000 talk time by referring your friend to dailyhunt with your Referral code.

Watch Video : How to Install & How to Earn Mobile Recharge Free:
DAILYHUNT NEWS FEATURES:
• Newsreader presents aggregated headlines personalized through a recommended stream of news & videos
• Read News from National & Regional Newspapers & Websites
• Browse by topics – add to favorite will appear in your personalized stream
• Support for 15 languages even if your phone doesn't support the language & font
• Get Local News from Indian districts & towns, world news, weather, horoscopes & stock updates
• Opt in to get notifications of Breaking News
• Set text size & background color as per your preference
• Share News over SMS, Whatsapp, Email, Facebook or any other app you have installed
• Hundreds of licensed partners
DAILYHUNT EXAM PREPARATIONS
• Exam Preparation provides mock tests, solved papers & study material for government exams in India – IBPS, SSC, UPSC, UGC NET, IAS, LIC, Railways, Defense, Judicial services, Teaching & more
• Stay updated on current affairs & Government job openings
• Study various subjects like English, General Knowledge, Reasoning (verbal & non-verbal), Numerical Ability, Computers, Marketing & more
• Helps you prepare efficiently by providing real-time analysis of your answers & ranks you against others who are aiming to prepare for exams
• Exam content provided by publishing houses such as Upkar Prakashan, Mock Bank, Arihant, Jiwan, Mockbank, Kiran Publications & Cosmos Bookhive
DAILYHUNT BOOK STORE/READER FEATURES
• Browse, download & read the largest collection of English & regional language books
• Choose from thousands of free ebooks and genres
• Buy individual chapters for select books instead of full book
• Read magazines & magazine singles (single articles) like Saras Salil, Caravan, Stardust, Champak, Grihshobha & Manohar Kahaniya
• Pay using mobile phone in addition to your credit/debit cards – Buy eBook using your mobile operator (for Indian customers only)