Hyderabad Hyderabad Visiting Places: A City of Heritage and Modern Marvels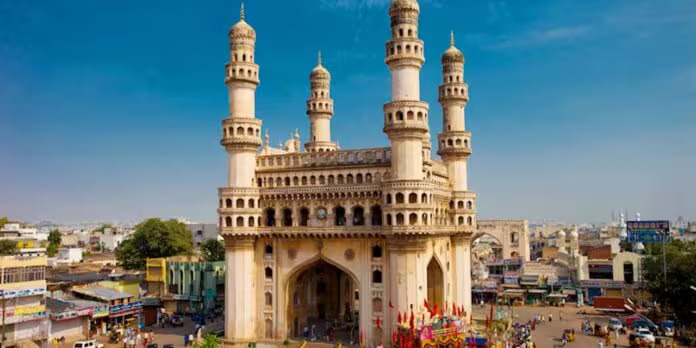 Hyderabad, the capital city of the Indian state of Telangana, is a unique blend of tradition and modernity. Known for its rich history, architectural wonders, and delectable cuisine, Hyderabad has something to offer to every kind of traveler. If you're planning a 6-day trip to this vibrant city, here's a curated itinerary to ensure you make the most of your time.
Day 1: Historical Splendors
Morning: Charminar and Laad Bazaar
Begin your journey at the iconic Charminar, a 16th-century mosque with four grand arches. Adjacent to Charminar is the bustling Laad Bazaar, known for its vibrant bangles and traditional attire. Immerse yourself in the colors and culture of the old city.
Afternoon: Chowmohallah Palace
Visit Chowmohallah Palace, a symbol of the Nizams' opulence. Explore its grand halls, vintage cars, and the Khilwat Mubarak, a stunning Durbar Hall.
Evening: Mecca Masjid and Golconda Fort
Mecca Masjid, one of the largest mosques in India, is a short drive away. Conclude your day at Golconda Fort, reveling in the historical tales and enjoying the sound and light show.
Day 2: Modern Hyderabad
Morning: Birla Temple and Hussain Sagar Lake
Start your day with a visit to the serene Birla Temple, offering panoramic views of the city. Next, head to Hussain Sagar Lake for a boat ride and a glimpse of the Buddha statue on the island.
Afternoon: Necklace Road
Relax by the lakeside on Necklace Road, lined with eateries and parks. Enjoy a leisurely lunch with the cityscape as your backdrop.
Evening: Lumbini Park and Eat Street
Explore Lumbini Park, a beautiful garden near Hussain Sagar, and later, indulge in a variety of cuisines at Eat Street.
Day 3: Cultural Extravaganza
Morning: Salar Jung Museum
Discover the diverse artifacts at the Salar Jung Museum, showcasing a vast collection of art and antiques.
Afternoon: Qutub Shahi Tombs
Pay a visit to the Qutub Shahi Tombs, an architectural marvel housing the tombs of the rulers of the Qutub Shahi dynasty.
Evening: Shilparamam
Explore Shilparamam, an arts and crafts village that showcases traditional Indian art forms through workshops and exhibitions.
Day 4: Wildlife and Nature
Morning: Nehru Zoological Park
Spend the morning at Nehru Zoological Park, home to a wide variety of fauna. Enjoy a walk through the lush greenery.
Afternoon: KBR National Park
Head to Kasu Brahmananda Reddy National Park for a peaceful afternoon surrounded by nature and wildlife.
Evening: Durgam Cheruvu
Relax by the serene Durgam Cheruvu, an artificial lake surrounded by rocks and greenery.
Day 5: Culinary Delights
Morning: Breakfast at Sarvi
Start your day with a traditional Hyderabadi breakfast at Sarvi, known for its delicious Irani chai and Osmania biscuits.
Afternoon: Paradise for Biryani
Savor the world-famous Hyderabadi Biryani at Paradise, a culinary institution in the city.
Evening: Street Food at GVK One Mall
Explore the vibrant street food scene at the GVK One Mall, offering a mix of local and international cuisines.
Day 6: Shopping Extravaganza
Morning: Jambagh Flower Market
Begin your day at the colorful Jambagh Flower Market, a visual treat with a variety of fresh flowers.
Afternoon: Shopping at Banjara Hills
Indulge in some retail therapy at Banjara Hills, home to upscale boutiques and famous brands.
Evening: Tank Bund for Souvenirs
Wrap up your trip by shopping for souvenirs along Tank Bund, with the picturesque Hussain Sagar Lake in the background.
Conclusion
Hyderabad, with its rich history, modern attractions, and delectable cuisine, promises a memorable travel experience. This 6-day itinerary is crafted to ensure you witness the best of the city, from historical landmarks to culinary delights and shopping havens. Enjoy your journey in the city of Nizams!