Visiting Places in Pondicherry: Explore the Charm of Pondicherry – Best Tourist Places
Introduction:
Pondicherry, nestled on the Coromandel Coast, is a captivating union territory in South India. Formerly known as Vedapuri, it is renowned for its rich history, French influence, and picturesque beaches. If you're planning a trip to Pondicherry, here's a guide to the 15 best tourist places that you must explore.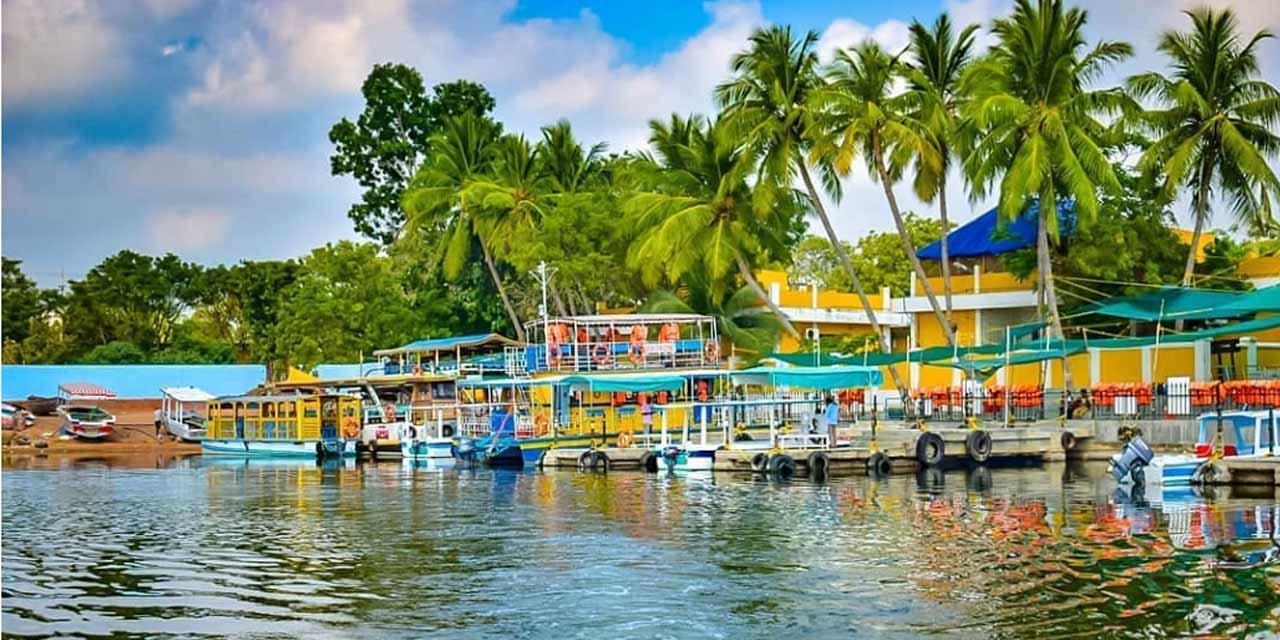 1. Paradise Beach:
Located near Chunnambar, Paradise Beach is a golden sandy retreat popular among tourists. The soft and grainy sand, coupled with a refreshing sea breeze, offers an unforgettable experience. While swimming in deep water is not recommended due to strong currents, visitors can engage in various water sports and relish coconut water and snacks.
2. Auroville:
Known as a "Universal Town," Auroville, founded in 1968, is a melting pot of cultures and traditions. Established by Mirra Alfassa, Auroville aims to transcend barriers of caste, creed, and nationality. With over 2,800 residents from 195 nations, Auroville is a unique global township fostering continuous education and development.
3. Aurobindo Ashram:
Situated in Pondicherry's White Town, Aurobindo Ashram is a spiritual landmark founded by Sri Aurobindo Ghosh and nurtured by Mirra Alfassa. Home to around 500 followers, 500 students, and 1300 patients, the ashram provides solace and inner peace. It is a must-visit for those seeking spiritual enlightenment.
4. Promenade Beach:
Stretching 1.2 kilometers along Goubert Avenue, Promenade Beach is a popular destination for various activities such as yoga, running, and skating. With landmarks like Heritage Town Hall, War Memorial, and Old Lighthouse, this beach is ideal for a leisurely evening stroll and offers a tranquil ambiance.
5. Serenity Beach:
Situated 10 kilometers from Puducherry, Serenity Beach is a serene escape, especially favored by honeymooners. Its peaceful ambiance and sandy shores make it perfect for sunbathing. Due to its distance from the city, it attracts fewer local tourists, providing a quiet retreat.
6. Lighthouse:
Pondicherry Lighthouse, boasting both ancient and modern structures, offers stunning views and hosts cultural events. Built in 1836, the historic lighthouse is no longer open to the public, while the newer one, constructed in 1979, stands as a popular tourist attraction.
7. Gokilambal Thirukameswar Temple:
Located in Villianur, 11 kilometers from Pondicherry, this beautiful temple dedicated to Lord Shiva exhibits a blend of French influence and traditional practices. The annual chariot festival showcases the temple's connection to French heritage.
8. Sri Manakula Vinayagar Temple:
A historic temple dedicated to Lord Ganesha, Sri Manakula Vinayagar Temple is believed to have been built in the fifth century. The temple hosts the vibrant Vinayaka Chaturthi festival and attracts devotees seeking the blessings of Lord Ganesha.
9. Basilica of The Sacred Heart of Jesus:
A significant religious site in Pondicherry, the Basilica is one of India's 21 basilicas. Established in 1908 by French missionaries, it gained basilica status in 2011. The church celebrates major holidays with grandeur, making it a must-visit.
10. French War Memorial:
Situated on Goubert Avenue, the French War Memorial commemorates soldiers who lost their lives in World War I. The monument holds an annual memorial service on July 14, adorned attractively during the event.
11. Arikamedu:
Arikamedu, a historical Roman trading town, is about a half-hour drive from Pondicherry. Known for its glass bead production facility, it was a prominent nautical center from the first century BC to the second century AD.
12. Raj Niwas:
Once known as Palais du Sarkar, Raj Niwas is an eighteenth-century structure serving as the residence of the Lieutenant Governor of Pondicherry. While not open to the public, it is a notable tourist site with monolithic pillars.
13. Botanical Garden:
Established in 1862, the Botanical Garden, also known as C.S. Perrotate, houses exotic plants from various regions. It includes an aquarium showcasing diverse aquatic species, making it a delightful spot for nature enthusiasts.
14. Chidambaram:
Located 63 kilometers from Pondicherry, Chidambaram is renowned for the Lord Nataraja temple and the vibrant chariot festival. The city, with its rich legacy and cultural influences, is a significant religious destination.
15. Water Sports:
Pondicherry's beautiful beaches are perfect for water sports enthusiasts. Enjoy activities like parasailing, scuba diving, and banana boat excursions while soaking in the sun.
How to Reach Pondicherry:
By Flight: Pondicherry Airport and Karaikal Airport offer air connectivity, with cabs available for city transportation.
By Train: Villupuram Railway Junction is the primary railway station connecting Pondicherry to major cities.
By Bus: Pondicherry is well-connected by road to cities like Trichy, Chennai, Bangalore, and Coimbatore.
Local Food in Pondicherry:
Pondicherry offers a unique blend of French and South Indian cuisine. Popular eateries like La Cafe Carte Blanche, Maison Rose, and Le Cafe serve delicious French dishes alongside regional specialties.
Best Time to Visit Pondicherry:
The ideal time to visit Pondicherry is between October and March when the weather is pleasant. Summers can be hot, reaching up to 40 degrees Celsius. Monsoons also offer a good time to explore, but the choice depends on individual preferences and planned events.
FAQs (Frequently Asked Questions):
Q1: What is the best time to visit Pondicherry?
A1: The best time to visit Pondicherry is between October and March when the weather is pleasant.
Q2: How can I reach Pondicherry?
A2: Pondicherry is accessible by air through Pondicherry Airport and Karaikal Airport, by train via Villupuram Railway Junction, and by road with well-connected bus services.
Q3: Are there water sports available in Pondicherry?
A3: Yes, Pondicherry's beaches offer a range of water sports activities, including parasailing, scuba diving, and banana boat excursions.
Q4: Which are the popular French restaurants in Pondicherry?
A4: La Cafe Carte Blanche, Maison Rose, and Le Cafe are among the well-known French restaurants in Pondicherry.
Visit Way2offers to Our Homepage for Related Topics