Learn Spoken English in 30 Days: A Comprehensive Guide
Learn Spoken English in 30 Days : A Comprehensive Guide :
Learning to speak English fluently can open up a world of opportunities in today's globalized society. Whether you're preparing for international travel, seeking better job prospects, or simply wanting to enhance your communication skills, a 30-day plan to improve your spoken English can be a great starting point. In this article, we will outline a step-by-step guide to help you embark on your journey to mastering spoken English within a month.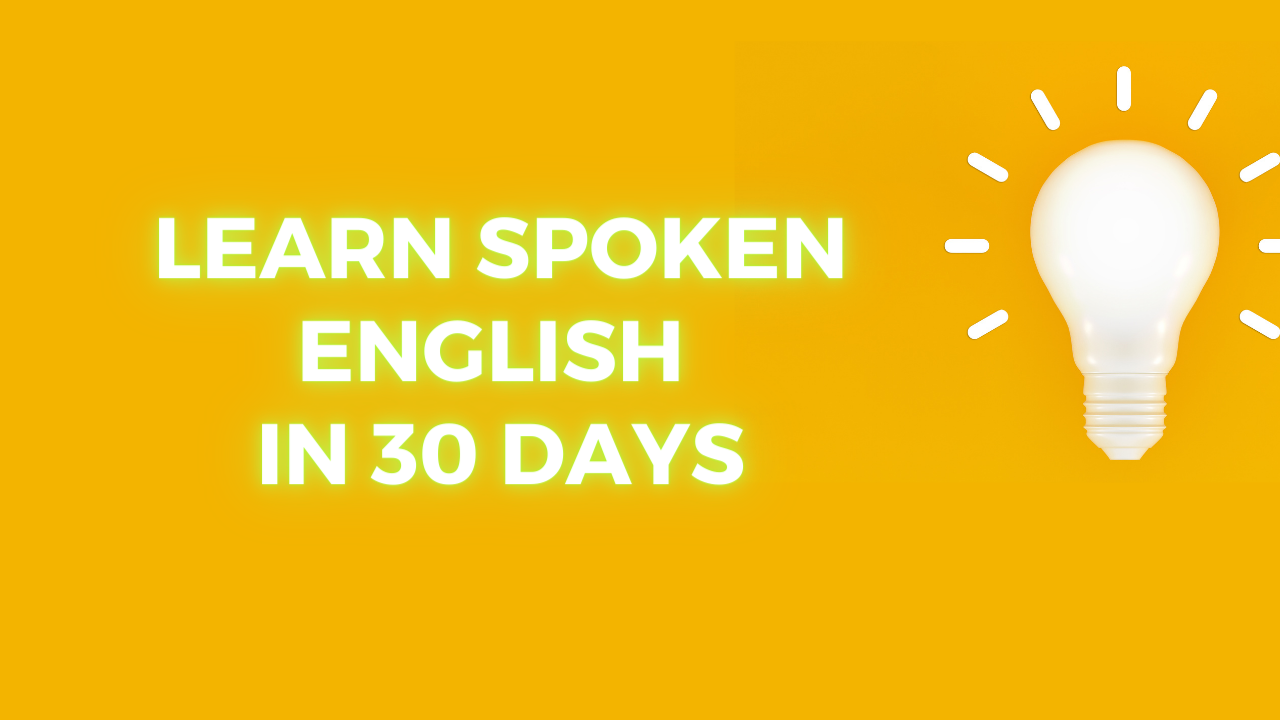 Day 1-5: Set Clear Goals and Motivation
Define Your Goals: Determine why you want to learn spoken English. Having a clear purpose will keep you motivated throughout the process.
Create a Study Schedule: Allocate specific times each day for learning and practice. Consistency is key.
Gather Resources: Collect English learning materials, such as textbooks, online courses, apps, and podcasts.
Find a Language Partner: Interacting with a fluent English speaker can help improve your conversational skills.
Immerse Yourself: Start listening to English news, movies, or music to get used to the language's sounds and rhythms.
Day 6-15: Build Your Vocabulary and Grammar
Learn Common Phrases: Begin with everyday phrases and expressions to communicate effectively in various situations.
Study Basic Grammar: Focus on essential grammar rules like sentence structure, verb tenses, and word order.
Expand Vocabulary: Make a list of new words every day and practice using them in sentences.
Read Aloud: Read books, articles, or stories aloud to improve pronunciation and fluency.
Day 16-25: Enhance Listening and Speaking Skills
Listen Actively: Pay attention to native speakers, podcasts, or TED talks. Try to understand context and meaning.
Repeat After Native Speakers: Mimic pronunciation and intonation to develop a more authentic accent.
Practice Speaking: Engage in daily conversations with language partners, even if it's just for a few minutes.
Record Yourself: Use a recording device to evaluate your pronunciation and speech patterns.
Day 26-30: Refine Your Skills and Gain Confidence
Seek Feedback: Request feedback from language partners or teachers to identify areas for improvement.
Engage in Conversations: Join English-speaking communities or discussion groups to practice speaking regularly.
Think in English: Try to think in English rather than translating from your native language.
Use English in Daily Life: Incorporate English into your daily routine, such as labeling objects around your home or thinking in English during your commute.
Celebrate Progress: Recognize and celebrate your achievements along the way to stay motivated.
Additional Tips:
Stay Patient: Learning a language takes time, so don't get discouraged by mistakes.
Review Regularly: Periodically revisit grammar rules, vocabulary, and pronunciation to reinforce your learning.
Set Realistic Expectations: Fluency may not be achieved in 30 days, but substantial progress is possible.
Stay Consistent: Stick to your daily practice routine to see significant improvement.
Conclusion:
Learning spoken English in 30 days is an ambitious goal, but with dedication and the right strategies, you can make substantial progress. Remember that language learning is a lifelong journey, and the key is to enjoy the process while continuously improving your skills. With a clear plan, regular practice, and the willingness to learn, you can become a more confident and proficient English speaker.