LeetCode Weekly Contest 373: A Challenge Awaits! – Prepare yourselves for the 373rd edition of the LeetCode Weekly Contest, sponsored by none other than LeetCode! This coding showdown offers not only a platform to test your skills but also the chance to win some exciting bonus prizes.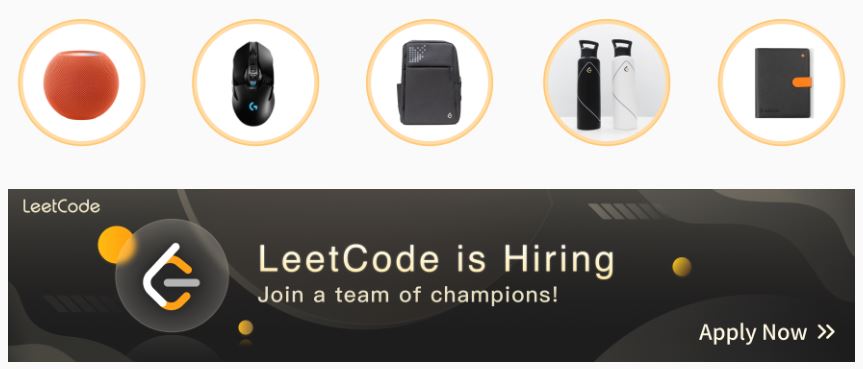 Event Details:
Date and Time:

Countdown: 6 days, 19 hours, 57 minutes, and 5 seconds
Set a reminder in your Google Calendar for the grand kickoff!

Registration:

To be part of this coding extravaganza, register in advance.
Fill out the survey during registration for an opportunity to be selected for an interview with LeetCode.

Bonus Prizes:

1st Place: Apple HomePod mini
2nd Place: Logitech G903 LIGHTSPEED Gaming Mouse
3rd to 5th Place: LeetCode Backpack
6th to 10th Place: LeetCode Water Bottle
11th to 20th Place: LeetCode Big O Notebook

Eligibility:

Bonus rewards are exclusive to LCUS (leetcode.com) accounts.
Important Notes:
Contest Rule Update:

A penalty time of 5 minutes will be applied for each wrong submission.
Hidden test cases will be in play during the contest to ensure fairness.
Contestants violating rules will face penalties, including account deactivation.

Contest Violations:

Multiple accounts submitting similar code is a violation.
Disturbances affecting others' participation are not tolerated.
Sharing contest solutions before the end is a violation.

Penalties for Violations:

First Violation: LeetCoin reset to zero, a 1-month contest and discuss ban.
Second Violation: Permanent account deactivation without appeal.

Reporting Violations:

Participants reporting valid violations earn LeetCoins.
Each reporter can earn up to 100 LeetCoins for valid violation reports.
How to Participate:
Register:

Only registered participants can join the contest.

Enjoy the Challenge:

Once registered, immerse yourself in the coding challenges provided.

Win LeetCoins:

Top performers receive LeetCoins as follows:

1st Place: 5,000 LeetCoin
2nd Place: 2,500 LeetCoin
3rd Place: 1,000 LeetCoin
4th to 50th Place: 300 LeetCoin
51st to 100th Place: 100 LeetCoin
101st to 200th Place: 50 LeetCoin

Special LeetCoin Opportunities:

First-Time Participants: 200 LeetCoin
Participate Biweekly + Weekly Contests in the Same Week: 35 LeetCoin
Announcement:
Participants must register to partake in the contest.
LeetCode hopes all participants enjoy the challenge!
Sponsorship Opportunity:
Want your company to be recognized by millions of LeetCode users? Contact LeetCode to sponsor a contest.
Get ready to code, compete, and conquer the challenges that await in the LeetCode Weekly Contest 373! May the best coder win!