Picasso Art Contest Invites Young Artists Worldwide – Are you a budding artist between the ages of 6 and 19? Are you ready to showcase your artistic prowess on a global stage? The Picasso Art Contest, home to the Ultimate Expression 2023, is calling for entries from young talents around the world. Join this international art contest and let your creativity soar! Here's everything you need to know.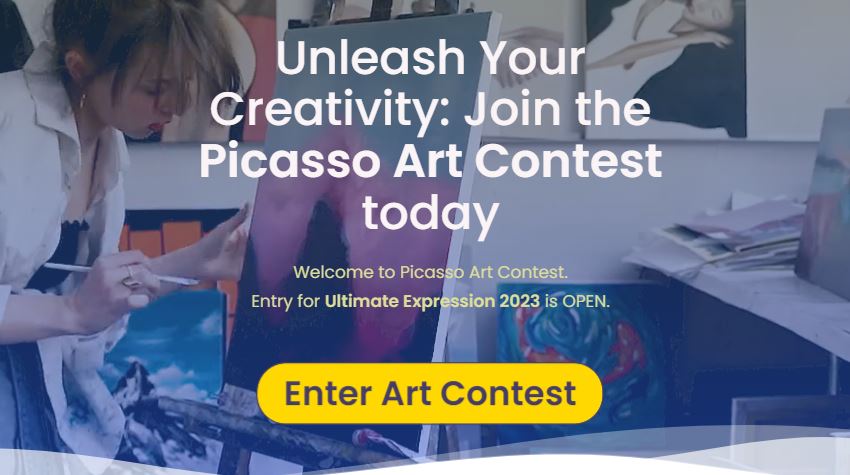 Picasso Art Contest: Ultimate Expression 2023
Welcome to the Ultimate Expression 2023
International Art Contest
For Ages: 6 to 19 years old
Participants from 78+ countries
What Is the Picasso Art Contest?
The Picasso Art Contest is an esteemed organization dedicated to hosting international art contests tailored for students aged 6 to 19. The primary aim is to inspire and motivate young artistic minds globally. This contest provides a unique platform for children to express their creativity and showcase their talent at an international level. With participants from over 78 countries, the Picasso Art Contest is committed to promoting art education and nurturing the next generation of artists.
Who Are We?
We are more than just a contest; we are a community that fosters creativity and artistic growth. Our mission is to create an inclusive space where young artists can explore, learn, and thrive. The Picasso Art Contest has gained recognition and has been featured in various publications, reflecting its impact and influence on the global art scene.
Meet Some of Our Esteemed Jury Members
Dr. Hasnaa Abu Emish
PhD in Art Education from Helwan University, Egypt
Eminent Artist in Egypt
Biljana Bakaluca
Master of Visual Arts from the University of Novi Sad, Serbia
Eminent Artist in Germany
Contest Overview
Number of Participating Countries: 78+
Number of Participants: 25,000+
Number of Visitors per Annum: 100,000+
It's Simple: Draw, Submit & Win!
Latest Articles
1. Importance of Drawing Competition
Explore the significance of drawing competitions for young minds.
2. Home Studio for Your Teen Artist
A comprehensive guide on creating the perfect home studio for your teen artist.
3. Child's Artistic Talents
Discover 8 tips and tricks for parents on encouraging and nurturing your child's artistic talents.
How to Participate
Visit the Picasso Art Contest website.
Navigate to the "Enter Art Contest" section.
Complete the online application form.
Submit your artwork online.
Why Participate?
Global Exposure: Showcase your talent to an international audience.
Learning Opportunity: Engage with renowned artists and learn from the best.
Recognition: Gain recognition for your artistic skills on a global platform.
Community: Join a vibrant community of young artists from diverse backgrounds.
Conclusion
The Picasso Art Contest is not just a competition; it's a celebration of creativity, innovation, and the boundless potential of young artists. If you're ready to embark on a journey of artistic expression, seize this opportunity and submit your entry to the Ultimate Expression 2023. Let your art be a testament to your unique voice in the world of creativity!